Aire Ancient Baths of Barcelona is, without a doubt, the most attractive spa in the city. In a few words, it's an unforgettable experience for the mind and the senses.
A spa out of the ordinary
As soon as you cross the massive wooden doors of Aire in the majestic Passeig de Picasso in El Born district, you start feeling special. 
Every single detail has been taken into consideration in the design, from the delicate interior lighting to the scents in the air.
You'll be greeted by a friendly and helpful staff that will guide you through the entire experience of visiting Aire.
What is Aire de Barcelona?
The mission of Aire is to restore the ancient roman and greek bath traditions in former historic buildings.
In fact, Aire de Barcelona occupies the area of a former meat storage facility of the old Born market, that features archaeological remains such as old water wells dating from romanesque times, integrated in the spa.
Silence and serenity are two other ever present elements in Aire, to guarantee a complete state of relaxation.
What do you need for visiting Aire?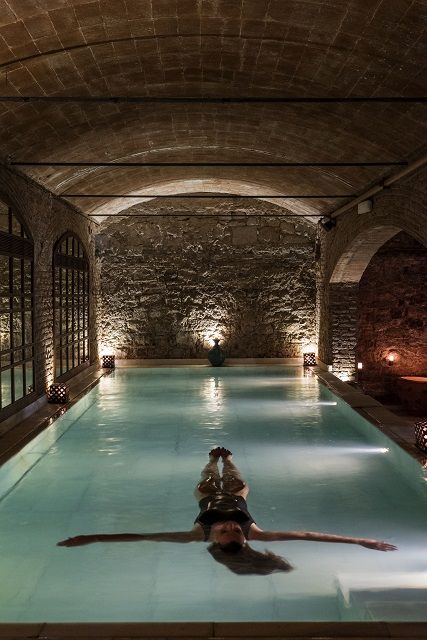 Just your swimsuit. But even if you fail to bring one, the center will provide one for you with no extra charge. It's recommended that you book your visit and treatments previously.
Upon arrival, you'll be guided to the dressing room. Here you'll be handed all the accessories you'll need for your visit. Having previously booked the extraordinary Wine Bath Experience, I was treated to a burgundy coloured bathrobe, special aqua shoes and towel.
Needless to say, the center has all the toiletries you can think of to groom yourself (bath gel, shampoo, conditioner, hair gel, shaving cream, blow dryer) and everything else you can think of.
Wine Bath Experience by ESDOR
This treatment is one of the most unique experiences offered in Aire de Barcelona. The incredible ritual takes place in an intimate private room, for a maximum of two people.
As the name implies, the Wine Bath Experience starts with a 30 minute immersion bath inside a marble venetian bathtub dating from the XVII century.
In total, this experience lasts around 3 hours.
First part – Wine bath Experience: 30 minutes
Prepare to immerse in a fantastic blend of 38º heated water, enriched with polyphenols of the red grapes grown in the region of Ribera del Duero.
This unique formula has incredible antioxidant and invigorating benefits for the skin.
After relaxing 15 minutes in the soothing atmosphere, you'll be treated to a mind blowing head massage with a moisturising hair tonic, while you enjoy wine and grapes.
Second part – Full body massage: 45 minutes
Get ready to continue the relaxing experience with a 45 minute massage. You'll be taken to a different (and identically intimate chamber) for a full body massage, applied with a special oil by Esdor, obtained from grape seed, rich in oleic and linoleic acid, as well as vitamin E.
Third part – Thermal Tour: 90 minutes
The final part of this experience includes a full thermal tour of the Aire de Barcelona facilities.
Feel free to try all the different spaces at your own pace. I started trying the Tepidarium, a warm water bath at 36ºC.
To experience a soothing sensation, continue with the Caldarium, a hot water bath heated at 41ºC. Then, to stimulate blood circulation, head for the Frigidarium, a 15º cold water bath that will revitalise your body.
Another space to explore is the Hammam. This quiet steam room features essential oils with proven beneficial effects for your health.
There is a small pool inside if you want to lower your body temperature. Next to the hammam, you will find the thousand water jet bath (36ºC), to massage different parts of the body.
Finally, the Salt Bath and its great concentration of salt will allow you to float and relax at 36ºC. You can take this tour in the order you desire. You can also choose to do the thermal tour first, before the wine bath.
About Aire Ancient Baths
Aire is present in Sevilla, Barcelona, New York, Vallromanes and Almería. When you
visit Barcelona
, be sure to
check this link
for all the services and treatments they offer. You won't regret it![
How to get to Aire de Barcelona
Address: Paseo Picasso, 22, 08003 Barcelona
Phone number: +34 932 955 743
[mappress mapid="122″]
*This article was written after the personal experience of being invited to visit the facilities of Aire de Barcelona.