A concert hall like no other
El Palau de la Música Catalana is one of Barcelona's most celebrated concert halls, a modernist work of art
Palau de la Musica Catalana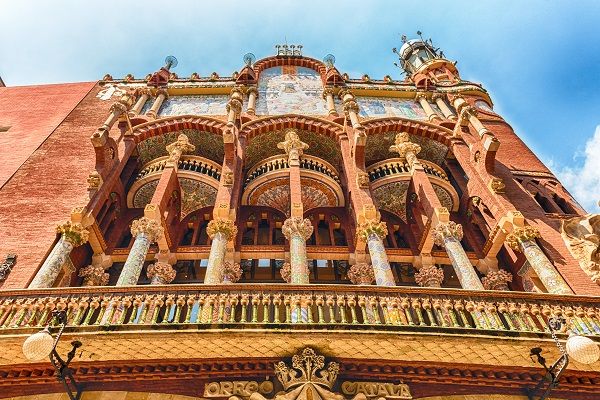 El Palau de la Musica Catalana is the most famous concert halls in Barcelona. Squeezed between the narrow streets of La Ribera neighborhood, is one of the most fantastic buildings of the Modernista movement.
It's among the Top 10 places to visit in Barcelona (#8), according to the top 1,000 travel websites in the world. So many people can´t be wrong!
History and artistic relevance
Founded by the Orfeó Catalá (Catalan Choral Society), it was inaugurated in 1908. Nowadays, with over 100 years of music history, it's one of the UNESCO World Heritage Sites of Barcelona.
The hall is very popular for symphonic and chamber music. Through the years, it has been the first one to stage pieces that are now some of the most relevant in music history. Pieces such as Isaac Albéniz's Azulejos or Joaquín Rodrigo's Concierto de Aranjuez.
Many top 20th Century composers and musicians have performed their work within the walls of the Palau. Composers like Ravel, Stravinsky and Manuel de Falla to name a few.
On the other hand, it has also featured other prominent figures in contemporary music like Ella Fitzgerald, Duke Ellington, Paco de Lucía, Woody Allen and Norah Jones.
A Barcelona Icon
The rich decoration (besides the perfection in acoustics) is the most impressive feature of the Palau.
Designed exclusively for the presentation of music, it's one of the best examples in modernista architecture in the world.
The stage features sculptures of classical music icons.
Also, figures of muses decorate the semi circle on the stage, each one playing a different instrument.
One element that distinguishes the Palau is the pipe organ that rises above center stage.
Finally, the Concert Hall is completely lit by natural light thanks to the impressive skylight directly above its 2,200 seating capacity.
Nowadays, the musical agenda of the Palau never stops. Performances and concerts take place almost on a daily basis.
If you're not able to catch a musical performance at the Palau, an experience recommended to the most, a guided tour of the Palau de la Musica is encouraged in order to get a sense of historical Barcelona.
Tickets
In order to visit Palau de la Musica Catalana, it's required to take a guided tour through the building. Children up to 10 years old accompanied by an adult enter for free.
Location
Metro: Lines 1 and 4, Urquinaona Station.
Bus: #17, #19, #40 and #45.
Address: C/ Sant Pere Més Alt 4-6
[mappress mapid="90″]
The best tours in Barcelona
Discover the Palau de la Música and other essential monuments and attractions in Barcelona