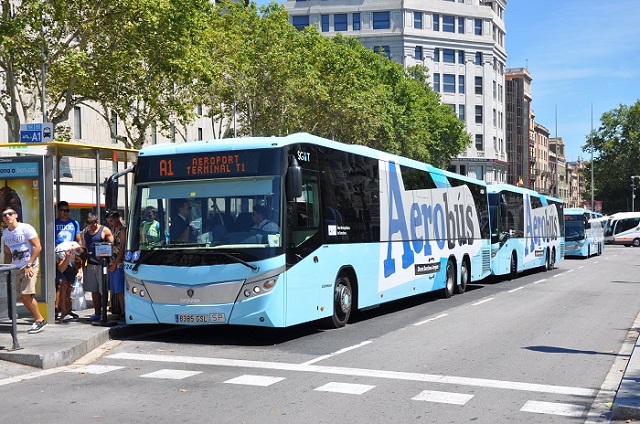 The fastest, simple and more comfortable way of getting from El Prat airport to the Barcelona city center is Aerobus, a direct shuttle bus service connecting both terminals (Terminal 1 and Terminal 2) with strategic transport hubs in Barcelona.
Its excellent service and fast timing have turned Aerobus into the most popular service for travellers who wish to get quickly to their destination. There is a bus departing to Barcelona every 5 minutes.

RECOMMENDED: Aerobus Express Airport Shuttle
Aerobus has a separate bus service for each of the 2 terminals in El Prat airport (Line A1 and Line A2), stopping along the route in Plaza España, Gran Vía-Urgell, Pl. Universitat and Pl. Catalunya.
After paying, you'll receive an electronic ticket on your email or you can also choose to print it right away or save it on your smartphone on PDF format. Just show the ticket upon your arrival in order to exchange it.
Amenities and features of Aerobus
During the 30-35 minute trip, you can enjoy free WIFI, USB chargers on board, TV monitor with key information about Barcelona and plenty of space for your luggage.
On top of that, all buses are adapted for persons with reduced mobility and you get a free tourist map with practical info, discounts and all the free available WIFI spots in Barcelona.
Timetables
Line A1 (From Pl. Catalunya to the airport terminal T1)
05:00 h – 06:40 h every 10 min
06:50 h – 21:45 h every 5 min
21:50 h – 00:30 h every 10 min
Line A1 (From the airport T1 to Pl. Catalunya)
05:35 h – 07:20 h every 10 min
07:30 h – 22:20 h every 5 min
22:25 h – 01:05 h every 10 min
Line A2 (From Pl. Catalunya to the airport T2)
From 05:00 h to 00:30 h every 10 min
Line A2 (From the airport T1 to Pl. Catalunya)
From 05:35 h to 01:00 h every 10 min
This timetable is effective every day of the week, 365 days a year, including holidays.
Aerobus Barcelona tickets and prices
Single ticket: 5,90€
Return ticket: 10,20€ (Valid for 15 days after validating your ticket)
Buy your tickets in advance by clicking on the banner below. You will get them automatically on your email. Then, proceed to print them, or carry it in your phone and show them to the driver upon your arrival. Children under 4 years old travel for free.

RECOMMENDED: Aerobus Express Airport Shuttle
Recommendations
If your trip is 15 days or shorter, buy the return ticket and save 1.60€.
Check your destination before taking the Aerobus at the airport, some stops other than Plaza Catalunya may suit you better for connecting with Metro or Bus.
There are separate buses for Terminal 1 and 2, each identified as A1 and A2. If you catch one by mistake, there is a free shuttle bus service in El Prat Airport that constantly connects both terminals.
Location in Plaza Catalunya