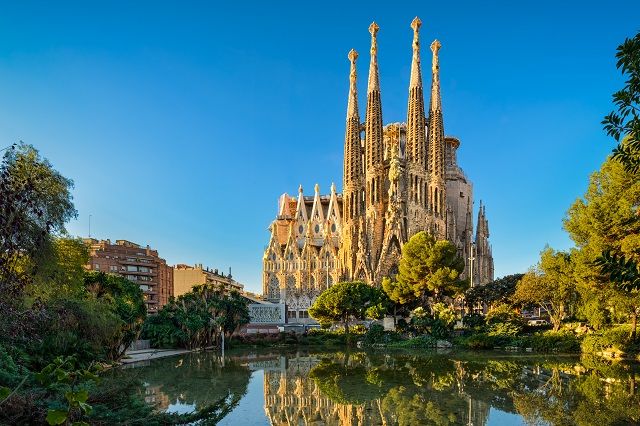 The Sagrada Familia is definitely the most famous building in Barcelona. Considered one of Gaudi's masterpieces, it's a key attraction in Barcelona and one of the most striking monuments ever built in the world.

POPULAR: Sagrada Familia guided tour & Fast Track entrance
Architecture & history
There is absolutely no other building in the world featuring such a genius mixture between Gothic and Art Nouveau styles. Antoni Gaudí took over the project in 1883, a year after construction had begun, and completely reshaped the project to fit his unique style.
Unfortunately, Gaudí died in 1926 when only a quarter of the project had been constructed. Sadly, most of the blueprints left were burned in a fire, therefore, all that's been built eversince has been a wide interpretation of Gaudi's architecture.
There's no way to describe the feeling when you exit the metro station in Sagrada Familia. As you start to go upstairs, I recommend to turn your back as you're about to admire the astonishing and unique beauty of one of the most celebrated works in the whole world.
Fun facts of Sagrada Familia
In 2019, Sagrada Familia was the most visited monument in Barcelona, with 4,5 million visitors.
Only the Mapfre Tower and the Arts Hotel (both 154 meters) at The Olympic Port stand that tall. When completed (in 2026), the Sagrada Familia will stand at 170 meters and will be the tallest building in Barcelona.
It can be seen from anywhere in Barcelona. Especially from Tibidabo mountain or from the Castle in Montjuïc, you'll be able to witness the importance of this monument in the city.
In European cinema it appears in Almodovar's Oscar winning film "Todo sobre mi madre" (All about my mother) and in the French film "L'auberge Espagnol".
Curiously, it was proposed as one of the new seven wonders of the world, but it didn't make the final cut.
Visiting the Sagrada Familia
Stopping over the Sagrada Familia should be top priority if you're in Barcelona for the first time.
Visiting the basilica it's an enjoyable experience and a great way to be introduced into Gaudí's architecture. Besides, it offers amazing views of the surrounding Eixample District, Barcelona's own Big Apple.
To catch an amazing glimpse of Sagrada Familia (see images below), go to the rooftop terrace of
Ayre Roselló Hotel
. You won't regret it!
Opening Hours
October to March 9:00 to 18:00
April to September: 9:00 to 20:00
December 25th and 26th, January 1st and 6th: 9:00 to 14:00
How to get to Sagrada Familia
Metro: Lines 2 and 5. Sagrada Familia Station
Address: Mallorca Street 401, 08013