Arenas de Barcelona
Former bullring turned into a modern shopping and entertainment center
Arenas de Barcelona
Arenas de Barcelona is the most unusual and historic shopping center in Barcelona.
Located in Plaza España, it was originally conceived as a bullring in the early 1900's, and as such it became one of the most celebrated bullrings in Spain.
A bit of history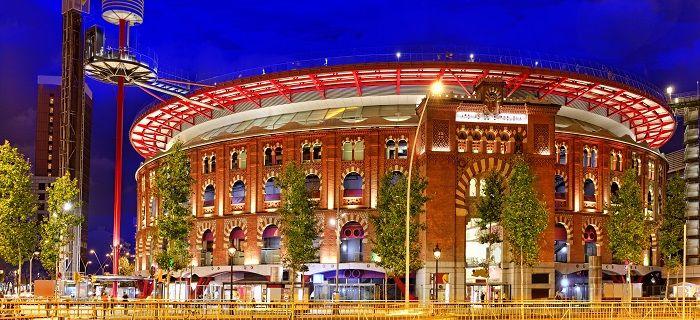 Having been subject to many other different uses (such as headquarters for the Republican Army during the Spanish Civil War), as well as other sports events, the last bullfight took place in 1977 and it was left to abandonment in the early 1990's.
After many years the London based and prestigious firm of Richard Rogers + Partners (responsible for the Pompidou Center at Paris among others) was chosen to renovate it into a shopping and entertainment center.
Its great location right beside the Plaza España Square and the Montjuic Fair Compound, was pivotal for this huge undertaking, whose objective was to demolish all the intern structure and mantain the beautiful Spanish style facade.
Services at Arenas
The result was unveiled in March 2011, becoming the latest addition to the city's growing capacity for this type of multi-purpose facilities. Every different space is clearly divided into levels, basically laid out like this:
Basement. Access to the parking lot on and entrance to the Metro and FGC Railway Services, plus supermarkets, restaurants, cafes and the famous technology department store, Fnac.
Ground floor. Specialized stores and cafes.
First floor. Some large retail outlets and specialized stores.
Second floor. 12 screen Cinema multiplex with the latest 3D technology, films showcased in Spanish only.
Dome. The Dome and last floor consists of a round viewpoint, offering breathtaking views of Plaza España and Montjüic. Entrance is free of charge and it's accessible through the inside escalators and an external panoramic litf.
Working hours
Arenas de Barcelona shopping hours and the Museum of Rock work  from Monday to Saturday from 10:00 to 22:00.
Restaurants open from 10:00 until 00:30, 1:30 or 2:30.
The Cinema starts at 16:00 from Monday to Thursday to 1:00, Fridays and days prior to holidays from 16:00 to 2:30, Saturdays, Sundays and holidays from 11:00 to 14:00 and from 16:00 to 1:00.
The parking lot is open the 365 days of the year.
How to get there:
Metro: Lines L1 and L3. Pl. Espanya Station
FGC Railway: Lines L8, S4, S8, S33. Pl. Espanya Station
Bus: #9, #13, #23, #27, #37, #46, #50, #56, #65, #91 and #109
Aerobus: Bus to Prat Airport Terminals 1 and 2
Address: Gran Via de les Corts Catalanes #373-385, 08015. Barcelona
Location
[mappress mapid="140″]
Other shopping centers in Barcelona