The first park of Barcelona
The Ciutadella Park was the first public park of Barcelona, built in the late 19th century
Ciutadella Park
The Ciutadella Park is the biggest and most important park of Barcelona. Located in the district of El Born, it's a green refuge in the Barcelona downtown.
A bit of history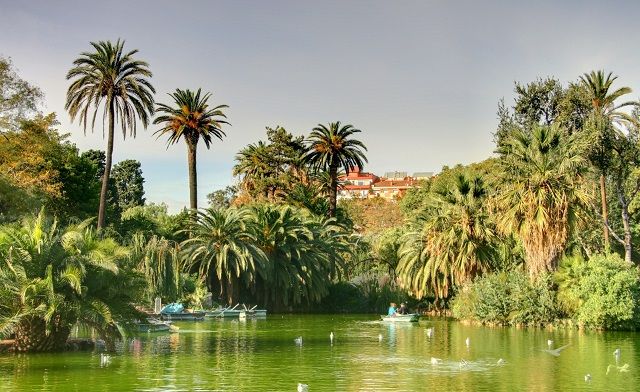 The Ciutadella Park was built in the former military grounds of the 18th century Fortress of Barcelona. Fortunately, this terrible structure was demolished in 1868, with full acclaim of the population, who saw it as a repressive symbol of the central government.
With the celebration of the 1888 Universal Exhibition, it was turned into a spectacular 17 hectare park.
Its main symbol, the Cascada fountain, was designed to resemble the Fontana di Trevi in Rome. It features Venus standing on an open clam.
What to see in Ciutadella Park
To begin with, the main attraction is the Barcelona Zoo, located entirely inside the park's grounds.
The lake is a popular spot. A quiet, perfect place to stroll and have a picnic. Also, it's possible to rent boats if you want to give rowing a try.
Visit the Museum of Zoology and Geology, both part of the Museum of Natural Science. It features a full whale skeleton and permanent exhibitions of paleontology and the animal kingdom.
Overall, the main activities at the park are the practice of sports, healthy lifestyle and leisure activities.
How to get to Ciutadella Park
Parc de la Ciutadella connects four different neighborhoods: El Born, the Olympic Village, Barceloneta and Arc de Triomf.
Metro: L4, Ciutadella Villa Olímpica or Barceloneta Station. L2 and Short Distance Trains: Arc de Triomf
Tram: T4, Ciutadella Villa Olímpica
Bus: 14, 39, 40, 41, 42, 51, 141
Location
[mappress mapid="91″]
More parks and open spaces in Barcelona
These are the most emblematic parks and open air facilities in Barcelona, perfect to visit with the family