Barcelona is great to visit all year round, but there's no doubt that during the summer, this city simply shines. These are the top 10 attractions to do in summer in Barcelona.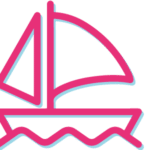 Catamaran Tour at Sunset
Experience the Barcelona coastline aboard a catamaran cruise with live music at sunset. This 1,5 hour cruise tour features comfortable lounge areas with snacks and drinks available.
Things to do in summer in Barcelona
1. The waterfront by the Port Olimpic
Did you know there are over 5 Km (3.10 miles) of car-free paths to wander freely by the Port Olimpic?
There are 10 beaches in Barcelona, some of them considered among the best city beaches in the world.
This is the best place to go for a drink in a chiringuito, roller skating, biking or just chill out after a perfect day in the sand.
2. Day trip to Montserrat
You will never see anything like Montserrat anywhere else in the world.
Imagine a fairytale mountain with a beautiful Monastery embedded in the rock and breathtaking views. This is a must in any visit to Barcelona.
Montserrat tour with transport
This guided tour takes you to explore Montserrat mountain retreat, monastery and basilica, with funiculars and mountain paths leading to spectacular views.
3. Visit Park Güell & other Barcelona parks
Barcelona is not exactly a green city but its parks are one of a kind. Park Guell is one of those sights by Gaudí you don't want to miss.
Spend the evening relaxing at Ciutadella Park, Barcelona's second most notable public park, with live drums in the background or by the lake.
Get lost at Horta's Labyrinth Park, find a shaded spot at the Botanic Garden in Montjuic or take a break from shopping at the secluded Pedralbes Palace Gardens near Diagonal's shopping district. (SEE MAP BELOW)
4. See the best views from a fancy rooftop terrace
If you're looking to enjoy a cocktail in a nice atmosphere, where there's good music and increible views, just head to any of the cool hotel rooftops that unwrap beginning early May.
Whether is the new and fancy terrace at Yurbban Hotel or the impressive rooftop terrace of the Ayre Roselló Hotel, with amazing views of Sagrada Familia, there are so many to choose from!
5. Take a ride at Montjuic fun cable car
It's short but superb: the Montjuic cable car that takes you to Montjuic Castle is the fastest, most styling and exciting way of discovering this Barcelona landmark.
If the day it's sunny (most likely), you'll get the best pics for Instagram.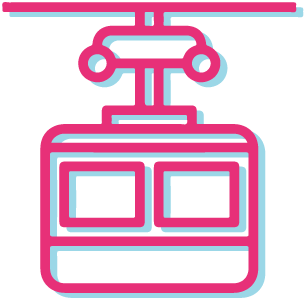 Ride the Montjuic Cable Car
Take a ride the Montjuic Cable Car, the fastest way to get to Montjuic Castle, and enjoy great views of Barcelona
6. Visit Casa Batlló and enjoy its Magic Nights
Gaudi and Barcelona go hand in hand, but nothing like Casa Batlló to take you on a journey to an architecture you've never imagined.
Take a legendary snapshot in the rooftop during sunset in the coolest house ever built by Gaudi, whilst you enjoy an open air concert during Casa Batlló Magic Nights.
7. Magic Fountain of Montjuic
It's refreshing, it's fun and best of all: it's free! The Magic Fountain of Montjuic is one of the most beautiful shows in Barcelona mixing lights, water and music that appeals to all ages.
8. Find refuge from the heat in the best museums
So many museums in Barcelona to choose from and so little time!
There are so many things to see in Barcelona but if you don't have that much time and want to staw away from the heat, don't miss Picasso Museum (a must), MACBA, the MNAC or the Joan Miró Foundation.
The ArtTicket may be just what you were looking for, a tourist pass with free entrance for 6 Barcelona museums.
Barcelona Museum Pass - Articket
Enjoy access to Barcelona's top 6 museums with the Articket, a museum pass with skip-the-line entrance, directly in your smartphone.
9. Discover Dalí's legacy and the gorgeous Girona
The Dalí Theater Museum is a great landmark dedicated to surrealist artist Salvador Dalí.
Immerse yourself in the unique universe of Dalí visiting this one-of-a-kind exhibition and discover the stunning medieval city of Girona, featuring the locations for the iconic TV show Game of Thrones.
Day trip to Girona and Figueres with Dalí Museum
Enjoy Girona and Figueres, Salvador Dalí's hometown in this guided full day tour. Walk through the picturesque streets of medieval Girona and visit the Dalí-Theater Museum in Figueres.
10. Unmask the unique sites of Sitges and the wine country
Sitges is one of the most stunning cities scattered along the south Barcelona coastline, with beautiful architecture and fantastic beaches.
Join a full day tour that includes a guided visit to the gay friendly city, a wine tasting to the Jean Leon Cellars in the Penedés region, plus the breathtaking landscape of Montserrat.
Montserrat & Sitges full day tour
Full day guided tour featuring the breathtaking landscape of Montserrat, its basilica and The Black Madonna, a visit to the prestigious Jean Leon wine cellars and the stunning coastal city of Sitges. Includes 4 wines tasting with snacks.