Gaudi's Park Guell
Learn all about this magnificent modernist work by Gaudi, how to get there and where to buy tickets
Park Güell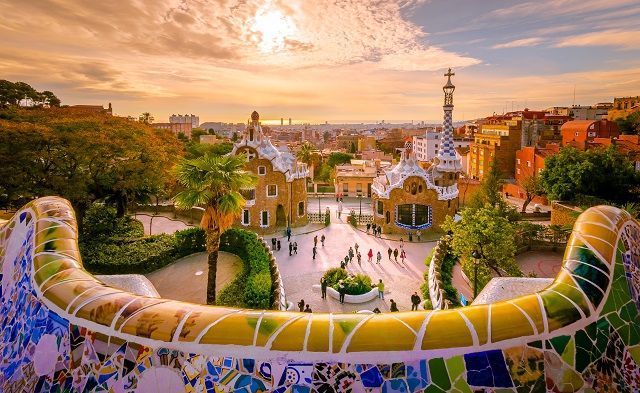 Park Guell is one of the most fantastic designs ever built by Gaudi. As soon you pass the entrance, you'll notice right away that this isn't an ordinary park. Needless to say, it's a landmark on its own and one of the top things to do in Barcelona.
Check what to see in Park Güell, it's history, tickets and the best tips on how to visit Gaudí's Park Guell.
Park Guell History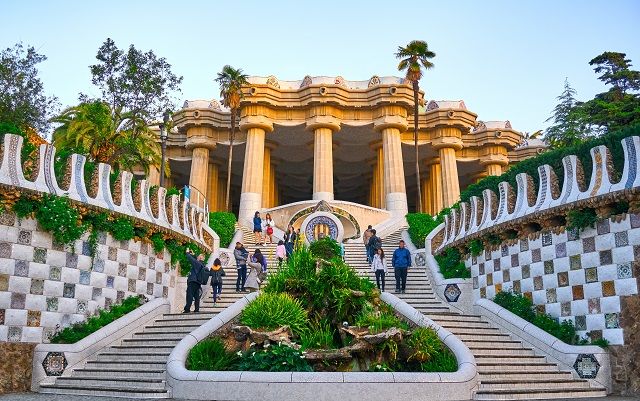 Curiously, Park Güell wasn't originally intented to be a park, but rather a project for luxurious homes. In 1900, the site was just a rocky hill with nothing but vegetation around, in the vecinity of some isolated upper class country houses. The result was one of the most fascinating works by Gaudí, along with Sagrada Familia, Casa Batlló and La Pedrera.
The intention of the project was to take advantage of the breathtaking views of Barcelona and the clean fresh air, away from the factories, in order to build a top of the line housing complex.
In Park Guell, there are plenty of paths and vegetation to enjoy, but the architectural estructures are the glue that holds the whole place together. It's located on the hill of El Carmel, in the Gràcia District.
For great insight into Gaudi's unique work, take a guided tour of Park Güell and learn all about its history and development.
Park Guell Tickets
You can book your Park Guell tickets online and take advantage of the Bus Güell shuttle bus, which is included in your ticket price and will take you from Alfons X metro station to the park entrance in just 15 minutes.
If you want to explore Casa Gaudí Museum, which was once Gaudí's home, you'll need a separate ticket.
Fun facts of Park Guell
It was declared UNESCO Worldwide Heritage Site in 1984.
Below the main terrace, the Hypostyle Room is an intriguing place filled with doric columns and beautiful ceiling mosaics.
The Gaudí House Museum is now a museum displaying the original furniture and other items designed by Gaudí. It udes to be the former residence of the architect and his family.
The most photographed element in all Park Guell is the Dragon, a beautiful sculpture and fountain located in the stairs that lead to the park.
The Terrace, a square that covers the main entrance to the park, features a serpentine seating bench all covered in trencadís.
Is Park Güell free?
Park Güell is free only for Barcelona residents. However, there are a few days of the year and special hours when you can enjoy a free entrance to Park Güell.
Opening Hours
October 25th to March 28th, from 8:30 to 18:15 (last entry until 17:30)
March 29th to May 3rd, from 8:00 to 20:00 (last entry until 19:30)
May 4th to September 6th, from 8:00 to 21:30 (last entry until 21:00)
September 7th 4th to October 24th, from 8:00 to 20:00 (last entry until 19:30)
How to get to Park Guell
Buses: V19 and Bus Güell (Shuttle bus located at Alfons X metro station – Included in Park Guell's ticket)
Metro: Line 3. Vallcarca station
Tip: Taking the metro is not the best choice, as there's a 20-25 minute walk from the nearest station of Vallcarca.
You can also get to Park Güell easily taking the Barcelona Hop On Hop Off Bus

Barcelona Gaudí monuments
Discover other emblematic attractions by Gaudí
Casa Batlló
Casa Batlló is one of Barcelona's biggest landmarks and one of Gaudí's most famous works.
Buy the ticket to Casa Batlló and discover a fairy-tale of a house.