Sitges
Sitges is widely regarded as the main-land Ibiza or the Saint -Tropez of Spain
Sitges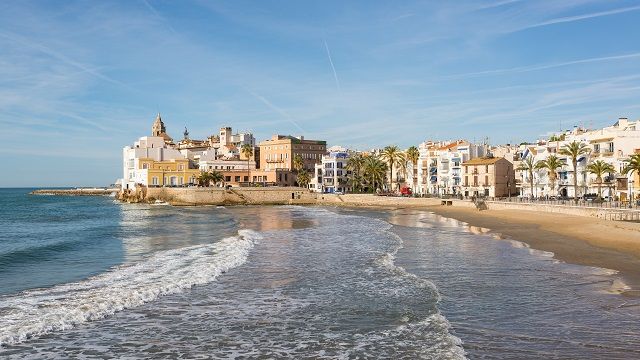 Out of the nearby towns around Barcelona, Sitges is definitely one of the most visited during the Barcelona summer. It has become a hot spot for its sandy beaches, active nightlife and historical landmarks.
Sitges: Mediterranean charm
Sitges is the representation of the true Mediterranean village, with at least 17 beaches along its coastline. Its appeal that hasn't gone unnoticed by more than 9,000 foreigners that make up more than 30% of its permanent population.
Nowadays is also a popular gay and lesbian destination, and one of the most gay-friendly towns in the world.
Its proximity to Barcelona and the airport, has made Sitges one of the most demanded destinations in Catalonia.
Sitges beaches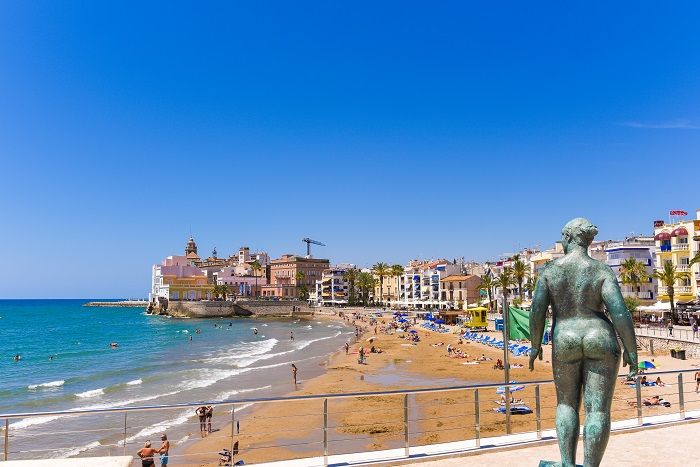 For a relatively small town, Sitges has plenty of beaches: 17 in total. All Sitges beaches are within walking distance from the towns' center and all feature basic services like restaurants, sunbeds, toilets, showers and watersports.
There are beaches for all kinds of crowds. Platja de la Fragata is a very popular beach for families. On the other hand, Bassa Rodona is the most famous gay beach and one of the busiest.
Platja dels Balmains is the only beach in Sitges where nudity is permitted but noy mandatory. You can keep your swimsuit on if you wish.
Festivals and Celebrations
Apart from the sunny days, beaches and good gastronomy, this town is famous also for hosting several festivities all year long: The Sitges Film Festival a huge event that takes place every October since 1967.
One of the most established Film Festivals in Europe, it showcases mainly fantasy and horror movies. Big names among past editions are: Quentin Tarantino, Elijah Wood, Bruce Willis, Anthony Hopkins, Ralph Fiennes, Antonio Banderas and Guillermo del Toro, among others.
Another big yearly festival is non other than the Gay Sitges Pride. Although it just held its third edition, it has already become one of the main attractions in town.
It features parties and events such as Kylie Minogue and Lady Gaga impersonators, tributes to Abba, Mr. Gay Pride Spain, High Heel Race, White Night Party, beach parties and even some pre-events from the Circuit Festival.
Carnival at Sitges
The Sitges carnival has been celebrated nonstop for over a century. The event has become so notorious, that it draws big crowds every year from Barcelona and nearby towns, eclipsing other carnival festivals.
The biggest night is when the Debauchery Parade takes over and more than 2,000 people in disguise, extravangantly take the streets in a party that's all about having fun.
How to get there
Take the metro lines 3 or 5 to Sants Station, then take a train directly to Sitges.
You must take the R2 Sud line of the Renfe short distance trains, heading to St. Vicenç De Calders or the R2 Sud, heading to Vilanova I La Geltrú.
On the other hand, you can also join a guided tour through Sitges' old town streets, with transport included from Barcelona, a visit to Jean Leon wine cellars and
Montserrat
.
Location
[mappress mapid="85″]
Other nearby attractions
These are some of the places you can discover within an hour away from Barcelona that shouldn't miss