Westfield Glòries is an open air commercial center with large shopping areas, restaurants, a movie theater and many leisure options for kids.
It's located in front of the high profile skyscraper Glòries Tower, the Encants Market and the Museum of Design, all of which make up Glòries Square (Plaça de Glòries), an area well connected with public transportation, highrises and new hotels. It's definitely an area of Barcelona worth visiting.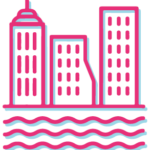 Find Hotels in Glòries Square
Glòries Square is a great place to find accommodation in Barcelona.
An area in transformation
Plaça de les Glòries was supposed to be the city center in Ildefons Cerdà urban plan for Barcelona (the one that originated the Eixample district). This idea didn't work quite well and for a long time it was relegated to a secondary status.
Nonetheless, this plans have realized many decades later, as the whole is finally coming alive with extensive shopping areas, iconic Glòries Tower and the Design Hub Barcelona (Museum of Design).
What to see in Glòries Square
Recent efforts to revitalize the area have succeeded with the construction of Glòries Tower, the National Catalonia Theater, the Barcelona Design Center and the new venue for the Encants Vells Market.
Westfield Glories Shopping Center is the main leisure area in the square. It's one of the best places for shopping in Barcelona.
Also, it features some large department stores, and the regular Spanish and International fashion boutiques, children's playcenter, a gym, a cinema, and several restaurants as well as coffee houses.
Services at Westfield Glòries
Parking space for 3000 vehicles, 2 hours free of charge.
Bicycle parking.
Amazon lockers.
Whatsapp & Shop service.
Gitf wrapping stations.
A borrowing service for umbrellas, strollers and wheelchairs.
Free wifi.
Nursing rooms.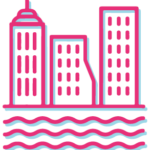 Find Hotels in Glòries Square
Glòries Square is a great place to find accommodation in Barcelona.
How to get there
Metro Line 1: Glòries Station.
Tram Lines T4 and T5, Ca l'Aranyó and La Farinera Station.
Bus: #7, #60, #92, #192, #H12, #N2 and #N7.
Address: Diagonal Avenue 208, 08018
Official website
Location