La Pedrera
Also known as Casa Milá, this architectural icon is another outstanding creation by Gaudí and a UNESCO World Heritage Site
La Pedrera
Gracing one of the most distinguished corners of the stylish Passeig de Gràcia is La Pedrera. Also known as Casa Milá, it's one of the most famous icons of Barcelona and a visit that should be at the top of your list of things to do in Barcelona.
It was built and designed by Antoni Gaudí, one of the first figures and driving forces behind the modernista movement.
A bit of history
With the Modernista movement bursting in the architectural scene and the development of a new upper class, Barcelona became the gallery for the new designs of this huge artistic movement.
At the time of its conception, it was considered a highly controversial design, featuring an ondulating facade and plenty of wrought iron ornaments in balconies, simulating the waves of the sea.
It served also as a test for several technological innovations, such as an underground parking lot and separated sets of lifts for residents and servants.
Over time, the building gradually started to look deteriorated due to complete abandonment.
It wasn't until the UNESCO declared it World Heritage in the 1980's and a private foundation took over and turned it into a museum, that La Pedrera started to look like its former glory days.
What to see in La Pedrera
Casa Milá includes a visit to several parts of the building including the ground floor, and a breathtaking apartment with views, (completely furnished with the original designs). Finally, the attic hosts a wonderful museum about Gaudí's innovations in architecture.
Not too far, you can find Casa Batlló, another iconic building designed by Gaudi, another landmark that should be included in your top places to visit in Barcelona.
The incredible rooftop terrace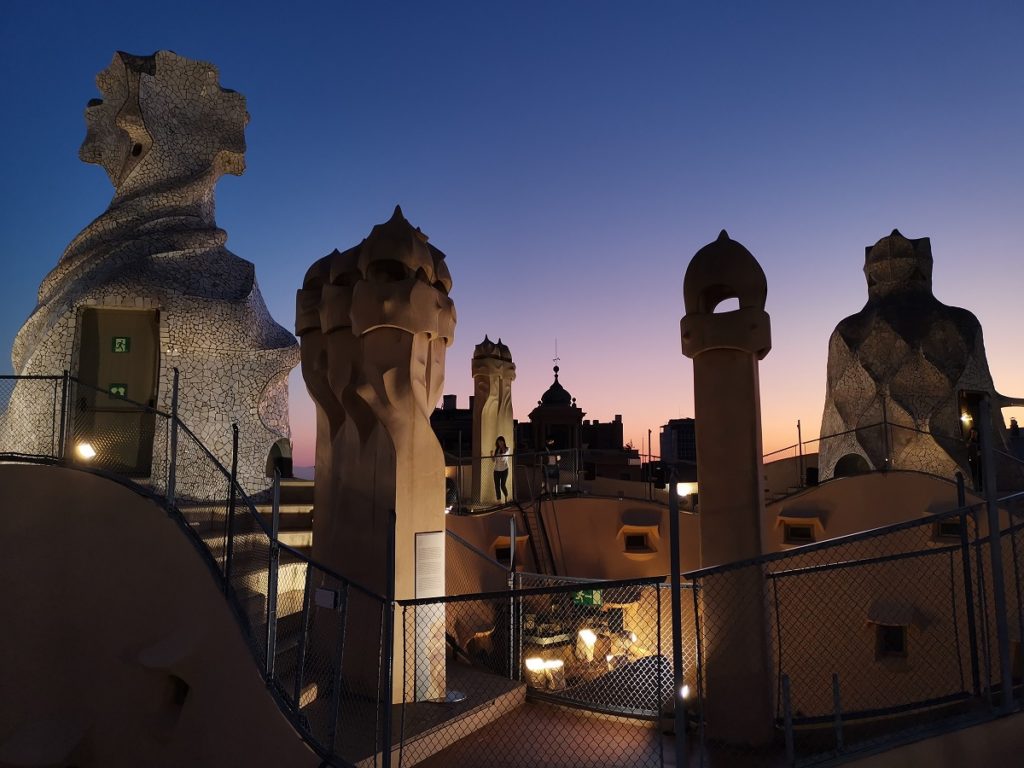 Perhaps, the most stunning place of all is La Pedrera rooftop. What any other architect would have probably overlooked and left as a place made only for ventilation shafts and chimneys, Gaudí took it to another level and created a fantastic fairy-tale setting  featuring the best city views in all of Barcelona.
Over 30 chimneys decorate the rooftop, some resembling warrior helmets while others bring to mind nature-like forms like treetops and other abstract forms
The multi leveled, sinuous terrace is the place to look forward, especially at sunset, when the city lights up it's the best spot to have your photo taken with the Barcelona skyline as your backdrop.
La Pedrera Tickets
Click here for the Skip the line tickets to La Pedrera with Audio Guide and access to the roof terrace. Just show your digital ticket and enjoy fast access.
Opening hours and location
November to February: from 9:00 to 18:30 (Monday through Sunday, last admission at 18:00)
March to October: from 9:00 to 20:00 (Monday through Sunday, last admission at 19:30)
Metro Lines 3 y 5. Diagonal Station
Buses: 7, 16, 17, 22
Address: Provença 261
[mappress mapid="88″]
Best tours in Barcelona
Discover La Pedrera and other essential monuments and attractions in Barcelona