Gothic Quarter
This charming neighborhood features the remains of the ancient Roman wall and emblematic medieval structures
Gothic Quarter
The Gothic Quarter is one of the most famous landmarks in Barcelona. Located in the heart of the old city, this Barcelona neighborhood features a fusion of buildings dating from Roman times to the 20th century.
If you're asking yourself where to stay in Barcelona, we'd say the Gothic Quarter is the most interesting places to stay and visit in the city.
The heart of the Barcelona Old City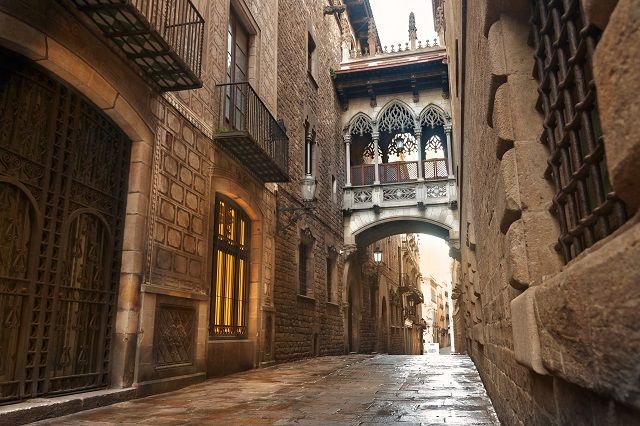 The main attribute of the Gothic Quarter is the antique aspect of its buildings, narrow streets and the near absence of traffic.
In fact, many areas are for pedestrians only and built like a labyrinth of winding streets and charming, hidden squares.
DID YOU KNOW?
Some of the buildings were built from scratch in gothic style during the early decades of the 20th century up until the mid 1960's.
Places to see in the Gothic Quarter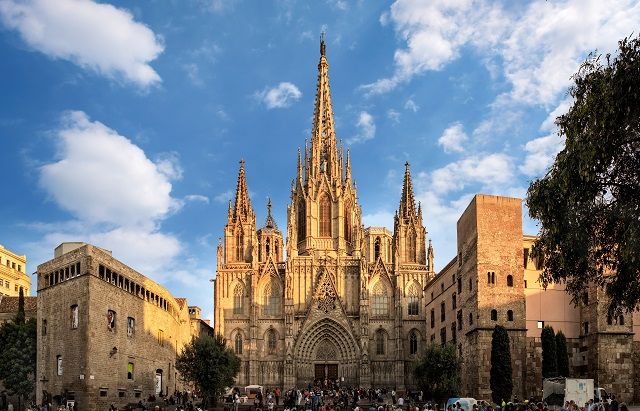 Gothic Cathedral. Barcelona's Gothic Cathedral is the gateway to the heart of Barcelona, located between Vía Laietana and La Rambla.
Bisbe Irurita Street. This gorgeous pathway leads from the Cathedral to Sant Jaume Square, featuring one of the most photographed bridges in Barcelona.
Church of Santa Maria del Pi. With a 54 meter high tower (which can be seen from La Rambla) is one of the most incredible structures of the neighborhood.
Sant Jaume Square. Features the City Hall and government buildings.
Discover: Barcelona 2-Hour Gothic Walking Tour
Plaça del Rei
An emblematic corner to visit is Plaça del Rei (King's Square), one of the most beautiful corners of old Barcelona.
This 14th century square houses the Museum of History of Barcelona.
Plaça Reial
In the other hand, Plaça Reial (Royal Square), is famous its charming and lively atmosphere.
A perfect place to enjoy a night out in one of its many bars and restaurants.
How to get to the Gothic Quarter
The Gothic Quarter is located in the area between La Rambla, Via Laietana and from the seafront.
Metro: Line 3, Liceu station or Line 4, Jaume I Station.
Location
[mappress mapid="103″]
Nearby attractions