Maremagnum
Barcelona's most famous shopping center is one of its most emblematic structures by the coast
Maremagnum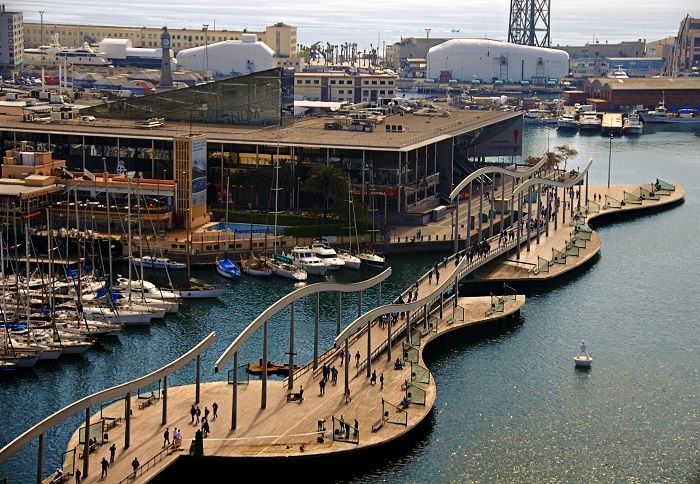 Maremagnum is much more than just a shopping center.
To begin with, it's location already makes it special; almost completely surrounded by water and accessible through a sophisticated wooden lifting bridge – for pedestrians only – called Rambla de Mar.
It's located right next to a popular boat ride in Barcelona, a fantastic sailing experience in Barcelona.
More than a shopping center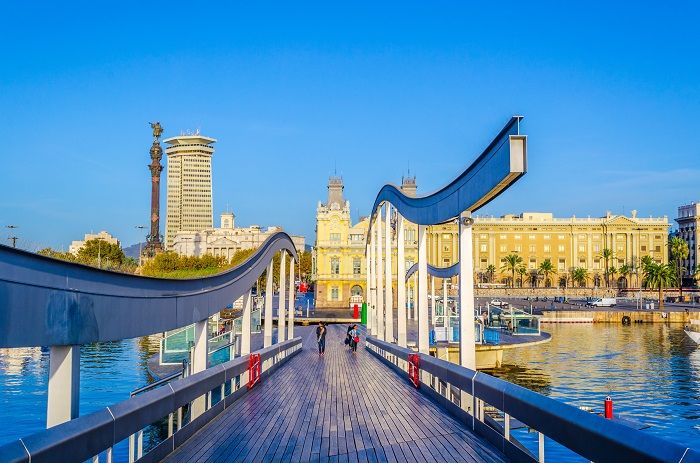 Maremagnum means much more than shopping. It was conceived as an all-family entertainment facility rather than just a shopping center.
It features a large variety of shops and boutiques including homeware, clothing, jewelry, toy shops, cosmetics and shoe shops, even one of the official Barça merchandising stores it's here.
There is another access by land, in between the junction of the Barceloneta and El Born neighborhoods, right after passing through the Aquárium.
It's colorful setting near the Barcelona Port makes it an excellent spot to hang around and watch the sunset in perfect sight of the cruise ships arriving to Barcelona.
Crossing the "Rambla de Mar"

Every hour and sometimes at a special request, this wooden bridge opens for aproximately 8 to 10 minutes in order to let the boats in the Marina sail to the open sea. All pedestrian circulation is closed during the passing of the ships.
Things to do at Maremagnum
In the true spirit of the Mediterranean, Maremagnum is a very transparent estructure, allowing the sun and the sea breeze pass through, making shopping into a very pleasurable experience.
One of the leading attractions is "La Terraza", a panoramic platform offering a 360º view over the sea and the Barcelona skyline where it's possible to find top notch restaurants and featuring always live shows such as flamenco or jazz concerts.
On the ground and middle levels it's possible to find other options to eat and relax, such as American and Mediterranean fast food joints, icecream shops, cafes and restaurants.
Close to the side entrance you can find a good amount of activities for children and also a modern eight screen cinema, (dubbed in Spanish). You can also take the famous boat tour through the Barcelona seafront in Las Golondrinas.
Services at Maremagnum
It's the only shopping center in Barcelona which opens everyday of the year, including on Sundays and holidays, from 10:00 to 22:00. Its services include:
Free wi-fi.
Car washing service.
24 hour parking lot.
Easy access to public transport, places to park and renting bikes.
How to get there
Nearby attractions