El Born
Discover this lovely and popular Barcelona neighborhood
El Born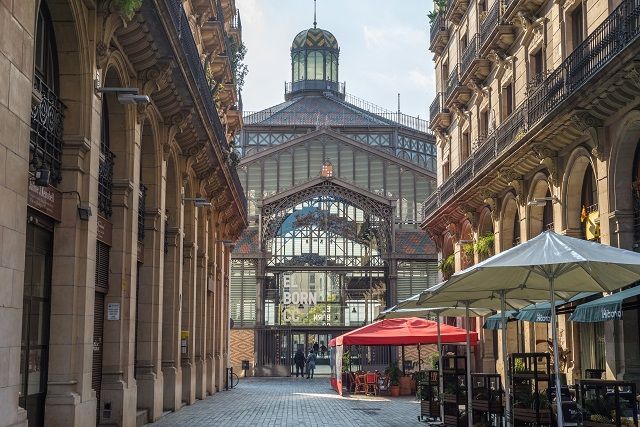 El Born is currently one of the trendiest Barcelona neighborhoods. Locals and foreigners alike swarm around the charming boutiques, cafes, bars and restaurants that make this area one of the best places to stay in Barcelona.
It's one of the most popular areas in Barcelona to go out at night.
A bit of history
A large extension of this neighborhood was demolished in order to build an infamous -and now extinct- military fortress, that was located in the current grounds of the Ciutadella Park, the first ever public park in Barcelona.
Even though the official name of this quarter is La Ribera, it's popularly known as El Born because of the former market of the same name.
What to see in El Born
El Born Cultural Center
This former market, (now turned into a cultural center), is a 19th modernist landmark so influential in its time, that ended up renaming the whole area. 
It has an impressive and interesting history. El Born Market opened in 1876 and became Barcelona's most important wholesale market for vegetables and fruit.
After almost a century, the market closed in 1971 and entered a state of almost complete abandonment. In 2002, excavations started in the site to build a library and to their surprise, extensive archaeological ruins were discovered underground.
Then, the decision was made to install the library in another location and turn the former market into a cultural center, in order to preserve and exhibit the ruins.
Picasso Museum
This district dates from medieval times. Formerly, it accomodated several well-to-do palaces along Montcada street that are worthy a look.
In fact, some of them were later turned into relevant institutions, like the Picasso Museum, one of the most visited museums in Barcelona.
Picasso Museum Ticket & Walking tour
Santa María del Mar
Right in the heart of this quarter, rises one of its most important landmarks, Santa María del Mar, the best exponent of a catalan gothic style church.
Santa María del Mar Literary Tour
Don't miss:
Dig further into the neighborhood's history and landmarks by taking part in a walking tour with tapas and drinks.
Palau de la Música Catalana
On the other hand, a visit to the theater of Palau de la Música Catalana is a must, an architectural masterpiece of the catalan art nouveau movement.
Palau de la Música Guided Tour
Santa Caterina Market
Last but not least, Santa Caterina Market is another venue that must be explored. This colorful and surprising food market, that rivals in charm with its counterpart, La Boquería, is a feast for the senses.
In conclusion, El Born Barcelona is one place you cannot miss.
How to get there
Metro Line 4: Jaume I Station. Bus: 14, 17, 19, 39, 45, 51, 120
Location
Best neighborhoods in Barcelona
Discover other interesting neighborhoods in Barcelona