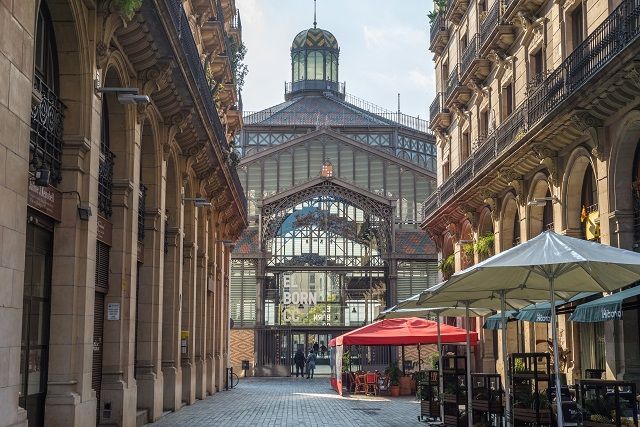 El Born is currently one of the trendiest neighborhoods in Barcelona. Locals and foreigners alike swarm around the charming boutiques, cafes, bars and restaurants that make up this lovely part of the city.
It's one of the most popular areas in Barcelona to go out at night.

RECOMMENDED: Best Hotels in El Born District
A bit of history
A good part of this neighborhood was demolished in order to build an infamous -and now extinct- military fortress, that was located in the current grounds of the Ciutadella Park, the first ever public park in Barcelona.
Even though the official name of this quarter is La Ribera, it's popularly known as El Born because of the former market of the same name.
What to see in El Born
El Born Cultural Center
El Born Centre Cultural is a milestone of this part of Barcelona. The former market, (now turned into a cultural center), is a 19th landmark so influential in its time, that ended up renaming the whole area.
Take a look at the impressive structure and the roman ruins that are exhibited inside.
This district dates from medieval times. Formerly, it accomodated several well-to-do palaces along Montcada street that are worthy a look.
Some of them were later turned into relevant institutions, like the Picasso Museum, one of the most visited museums in Barcelona.
Picasso Museum Ticket & Walking tour
Right in the heart of this quarter, rises one of its most important landmarks, Santa María del Mar, the best exponent of a catalan gothic style church.
Santa María del Mar Literary Tour
Don't miss:
Dig further into the neighborhood's history and landmarks by taking part in a walking tour with tapas and drinks.
On the other hand, a visit to the theater of Palau de la Música Catalana is a must, an architectural masterpiece of the catalan art nouveau movement.
Palau de la Música Guided Tour
Santa Caterina Market
Last but not least, Santa Caterina Market is another venue that must be explored. This colorful and surprising food market, that rivals in charm with its counterpart, La Boquería, is a feast for the senses.

RECOMMENDED: Best Hotels in El Born District
How to get there
Metro Line 4: Jaume I Station. Bus: 14, 17, 19, 39, 45, 51, 120
Map